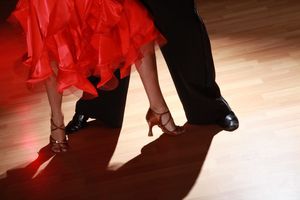 So, you've decided to sign up for dance lessons at Arthur Murray Dance Center San Antonio. Congratulations! You've taken the first step towards a healthier,happier, more outgoing you. Whether you want to take lessons for your wedding's first dance or you're simply looking for a fun, romantic activity to share with your partner, we promise that Arthur Murray Dance Center San Antonio will provide you with an unforgettable experience, no matter your age or skill level.
In this blog post we explore the ten best dance movies ever. Watching a movie is a great way to get excited for a new activity, so be sure to spend some quality time on the couch with one of these fantastic flicks. Whether you're interested in swing dance or samba, merengue or mambo, this list is sure to have a film that you will love. Revisit our blog frequently for even more tips and articles for social dancers, and check out our new student offer to receive your first lesson free.
Footloose
This family-friendly movie from 1984 features Kevin Bacon as a rebellious teenager who moves to a town where dance is forbidden. Will Bacon be able to reform the stuffy city council? You'll have to watch to find out!
Black Swan
Thriller fans will love this dark movie from acclaimed director Darren Aronofsky. Starring Natalie Portman as a precocious ballet dancer in the prestigious New York City Ballet company, Black Swan explores what can happen when the search for perfection goes awry.
Step Up
As the first installment in the Step Up franchise of films, 2006's Step Up follows the tale of underprivileged Tyler Gage, played by Channing Tatum, as he falls for wealthy modern dancer Nora Clark (Jenna Dewan). This isn't your usual boy-meets-girl drama. Full of powerful dance scenes, Step Up is sure to inspire anyone new to the art of dance.
Dirty Dancing
Dirty Dancing is a steamy, sensational 1980s classic. Set in an upscale Catskills resort in 1963, this film tells the story of 17-year-old "Baby" Houseman as she learns to dance from one of the resort's dance instructors, Johnny Castle. It's a tale of first love and innocence lost, set to unforgettable music and choreography.
Honey
Released in 2003, Honey screams of the early aughts in the best way possible. Starring Jessica Alba as a hip-hop dancer who rises to become a famous choreographer, Honey is a movie that's not to be missed.
Save the Last Dance
Hopeless romantics will love this 2001 classic, featuring Julia Stiles and Sean Patrick Thomas as a pair of star-crossed lovers who overcome adversity and grief through dance. You'll laugh, you'll cry, you'll be unable to wait to get dancing.
Center Stage
Center Stage takes viewers inside the fictitious American Ballet Academy in New York City. If you've ever wanted an insight into the world of professional dance, this drama will introduce you to both the struggles and successes of seeking stardom.
Billy Elliot
Transport yourself to England in the eighties in this British dance drama about being true to yourself. Watch as 11-year-old Billy overcomes the odds to discover a love for ballet.
Singin' in the Rain
Family-friendly Singin' in the Rain takes viewers back to Hollywood in the late 1920s, as "talkies" begin to replace silent films. Featuring unforgettable dancing from Gene Kelly, this musical is sure to leave you humming long after the credits have rolled.
Hairspray
Whether you opt for the 1988 original directed by John Waters or the 2007 remake, Hairspray is a wild ride full of laughs, surprises, and some serious dance movies. Cheer along as heavyset highschooler Tracy Turnblad fights for racial integration in 1960's Baltimore.
Looking to get ready to swing, sashe, and salsa? These ten dance movie classics will have you moving in your seat in no time. Arthur Murray Dance Center San Antonio is your go-to source for exceptional dance classes in the San Antonio area. Sign up for our new student offer now to receive your first lesson free. Then dim the lights, grab some popcorn, and settle in for some fabulous flicks.